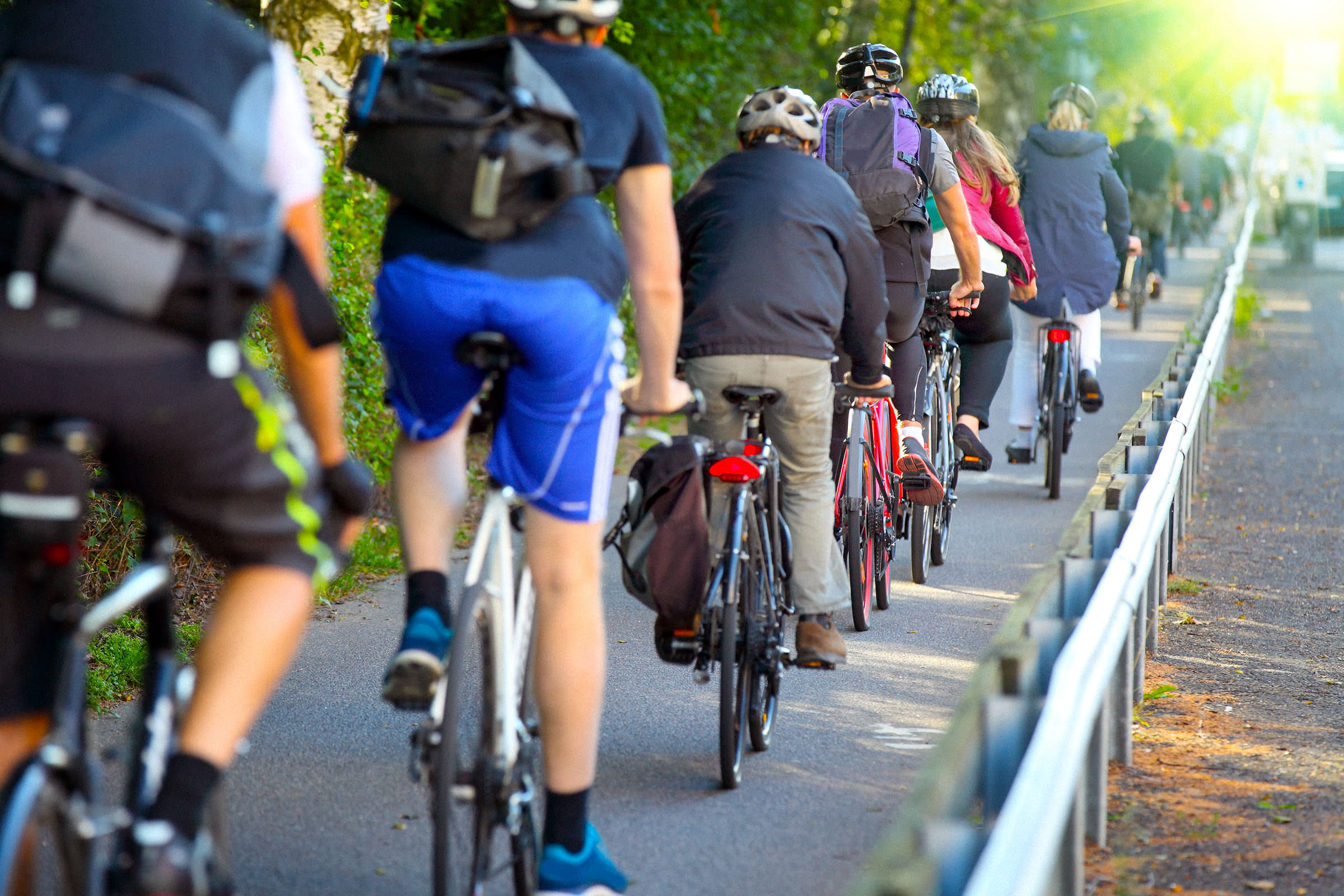 Special "Town and Country" Program
The Climate Protection Program 2030 for the implementation of the Climate Protection Plan 2050 has been supplemented by the federal government with another current individual program – the Special Urban and Rural Program for an area-wide bicycle infrastructure.
Responsibility for implementation lies with the Federal Ministry of Transport and Digital Infrastructure, or BMVI for short. The responsible federal minister has increased the budget funds previously approved and budgeted for this purpose by a further amount of 1.46 billion euros. This is available to the federal states for transfer to cities and municipalities up to and including 2023 as part of federal funding, and is earmarked for cycling.
Some key points
The special program is intended to support, protect and strengthen cyclists throughout Germany
The goal is the long-term development of a largely seamless cycling infrastructure with urban-rural connections.
Cross-border bicycle traffic between several municipalities is welcome and worthy of support
Visibly shift more traffic to climate-friendly cycling, especially in rural areas
Bicycle traffic must be much better linked with other modes of transport, and in addition, the increasing freight bicycle traffic should be taken into account
What is the funding goal
This special program also provides – for the first time – financial support for own investments in the federal states and municipalities for the further development of cycling on site. The attractiveness of cycling as a whole is to be sustainably increased by improving road safety and conditions in both urban and rural areas.
Examples of this are secure and modern two-wheeler parking facilities, an expansion of the cycling infrastructure especially for cargo bikes or the creation of comprehensive, preferably separated as well as secure cycling networks. The bottom line is that in the long term, more and more people should switch from cars to bicycles. This also applies to two-wheelers such as e-bikes and pedelecs.
How is promoted
The pro-rata federal share of eligible measures is staggered over time. Until the end of December 2021, the general standard funding rate is up to 80 percent, and from January 2022, up to 75 percent of eligible expenses. For areas and regions recognized as structurally weak, the standard funding rate is increased to the maximum rate of up to 90 percent.
These federal funds are topped up by additional, i.e. supplementary, state funding. This can vary from state to state with the result that standard rate funding can be up to 90 percent and maximum rate funding can be up to 95 percent.
The remaining self-financing by the grantee then remains within a really manageable framework for the city and municipality.
The special program is a promotion of economic growth pursuant to Article 104b (1) No. 3 of the Basic Law.
What is promoted
The variety of funding opportunities in the city and state cannot be defined conclusively. Rather, it results from the individual measures as well as projects that cities and towns apply for from their state government.
Some examples
Roadside bicycle facilities, separated as far as possible from individual motorized traffic.
Independent, in other words individual bike paths
Bicycle lanes and zones
Bicycle lane options such as bridges and underpasses for height-free crossing of other traffic routes
Intersections to reduce the point complex traffic infrastructure.
Traffic separation of traffic flows
Removal of visibility obstacles in bicycle traffic
Construction of advanced stop lines or of protective islands
Facilities for stationary traffic from the outdoor parking facility to the bicycle parking garage.
The following are also eligible for subsidies and grants
Expenses for required land acquisition
Required elements including lighting systems around the road safety.
Wayfinding and location signs
Planning services at a flat rate of 10 percent of the eligible construction expenses as part of an initial application
Operational measures to optimize traffic flow in and out of town
Coordination of successive traffic lights and traffic signals
Coordination of separate traffic light phases to green phases for the different traffic flows.
Improving the safety and traffic flow of cycling in general.
Any bicycle express lanes are not eligible for funding. These are connections in the bicycle network within the community or in an urban-suburban region that link important destination areas with high source or destination traffic over longer distances. In addition, they enable safe travel at high speeds throughout.
Who promotes – who is promoted
Cities and towns submit grant applications to their state. The federal and state governments have agreed on the following to ensure that funds flow quickly and as unbureaucratically as possible:
The Federal Office for Goods Transport, as the project executing agency for the BMVI as the funding agency, can raise any objections to submitted projects within a period of one month. If this does not happen, the individual project application is automatically considered approved. It is the responsibility of the federal states to pay particular attention to an appropriate distribution of funds between urban and rural regions. The goal of creating equal living conditions is a co-decisive criterion.
The evaluation basis for the federal government is the provision of state data on accidents, traffic development in general, and CO² emissions.
The administrative agreement under the name Special Program City and Country between the Federal Republic of Germany and the federal states of the Federal Republic of Germany entered into force on 22.12.2020 with the countersignature of all federal states.
Conclusion – special program another offer for federal cycling promotion
As a summary, it remains to be said that the bicycle infrastructure is becoming increasingly important due to a steadily increasing number of e-bikes. Short and medium commuting distances can be easily covered by e-bike. The bicycle is thus developing into a complementary means of individual mobility.
Future-proof mobility policy should, or more compellingly, must aim to create an attractive alternative to owning a car through the good networking of attractive public transport services and cycling infrastructure projects.