Quality at the highest level
At WSM, quality is more than a promise - it is a fundamental part of our corporate philosophy. Originally developed from solid craftsmanship, our production is now subject to modern, comprehensive quality management. This guarantees compliance with our high standards and the safety, stability, durability and lasting value of each of our products.
Our quality is certified. In addition to ISO 9001:2015 certification, we have a number of other certifications and approvals. We also pay strict attention to quality when selecting our suppliers. Through careful incoming goods inspections and prudent warehousing, we ensure that we always meet our high quality standards.
Our commitment to quality makes the difference and pays off. Our customers confirm this time and again. WSM - that is quality that you can see, feel and rely on.
But not only in the production, but also in the delivery and assembly of our products, quality is paramount. With our own crane vehicles, specially trained personnel and cooperation with reliable forwarding companies, we ensure that our products reach you safely and on time. With our call system, we seamlessly record all customer requests and suggestions. This allows us to continuously improve our products and customer service.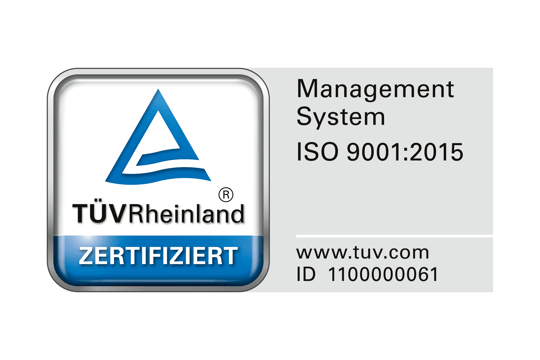 For many years WSM has applied certification based on the international standard ISO 9001. It forms the objective basis for our continuous improvement process and ensures independently audited and standardized quality assurance. As a customer, you can always rely on the fact that our processes are traceable from A - Z and that the quality of our products is always right.
Welding certificate DIN EN 1090
Our high production quality is also ensured by the fact that we regularly inspect and document all welding work on load-bearing steel structures. It also certifies compliance with the specifications for corrosion protection, cutting work, punching and shaping, mechanical joining and dimensioning. What is so carefully made, simply lasts longer. And that pays off, even years later.
Business is a matter of trust. We therefore also offer our customers from industry and the public sector financial solidity. We have this certified by Creditreform, Germany's leading provider of business information. In addition to impeccable business conduct, our customers can also expect a positive outlook for the future.
Public contracting authorities receive a list of those companies that are prequalified for public procurement procedures and thus fulfill the suitability requirements set out in the VOB/A. An additional contract-independent check of the proof of suitability significantly reduces the effort and cost of investments.
Even if independent structural testing is not required, it remains good to know that all our bus shelters, canopies and Mobile room systems are carefully manufactured and tested. Many variants of our Shelter systems "Köln" and "Mannheim" even have a general type test and are thus pre-tested for their high stability. It is therefore not necessary to recalculate the structural analysis on site. A plus that saves our customers a lot of time and money.
Hot dip galvanizing according to DIN
Our metal parts also go through the fire for you: hot-dip or piece galvanizing is a standardized process and regulated by DIN EN ISO 1461. In this process, raw material or already processed metal workpieces are individually immersed in a bath according to predefined specifications after prior treatment. The immersion also reaches weld seams, surfaces inside and hard-to-reach places. Thus, rust has no chance, and what was made this way, also withstands any weather. Anytime.
Buying in an environmentally friendly way - this is becoming increasingly important to our customers. And that assumes that the electricity we buy is also produced cleanly. The ok-power seal certifies that our electricity tariff is guaranteed to contribute to the expansion of renewable energies and their integration into the electricity supply system. The electricity required comes 100 percent from renewable energies. The certification is carried out according to strict and uniform criteria, which we are happy to fulfill for you.
Working together for more plastics recycling
As a certified customer at "Der Grüne Punkt - Duales System Deutschland GmbH" we and our sales packaging are registered at the dual system "Der Grüne Punkt" for Germany.
100% climate neutral parcel shipping
You can't do without it, but even parcel shipping at WSM is as environmentally friendly as possible. This ensures active participation in the GLS KlimaProtect program. Our parcel shipping is handled climate neutrally by General Logistics Systems Germany GmbH & Co. OHG.
All climate-damaging greenhouse gas emissions generated during the transport of our goods shipments are offset by investments in an externally certified forest protection and reforestation project (according to VCS/CCB standard). In addition, GLS Germany consistently invests in the further reduction and avoidance of CO2 emissions as part of GLS KlimaProtect.
Sustainable development goals
The topic of sustainable management has currently arrived in many companies. Numerous standards for use in operations already exist. The Sustainable Development Goals (SDGs) adopted by the global community in 2015 are becoming increasingly important as a framework for orientation. The association B.A.U.M. (Bundesdeutscher Arbeitskreis für umweltbewusstes Management) has developed an offer that teaches companies how to deal with the SDGs. WSM has undergone the Sustainability Check and thus created the basis and a perspective for achieving the SDGs.
CE marking, DIN standards
The CE mark ensures safe products by documenting compliance with minimum legal requirements within the EU. CE marking and DIN standards guarantee the operational and handling safety of our products. Stationary Bicycle parking systems from WSM comply with DIN 79008 with its high requirements for safety, environmental friendliness, comfort and security.
Proof of flame resistance according to DIN 4102-1
We leave no stone unturned when it comes to our Information systems. Whether these are for advertising purposes or to provide information about fire safety precautions. Available are many of our Notice boards with proven flame retardancy. This fulfills the requirements for building material class B1.
ENEC certification and high IP protection classes
Illuminated Notice boards must comply with legal standards to prevent electrical shock, short circuits and cable fires. This is ensured throughout the EU by ENEC certification and by high IP protection classes. You will, of course, find corresponding instructions on our products.