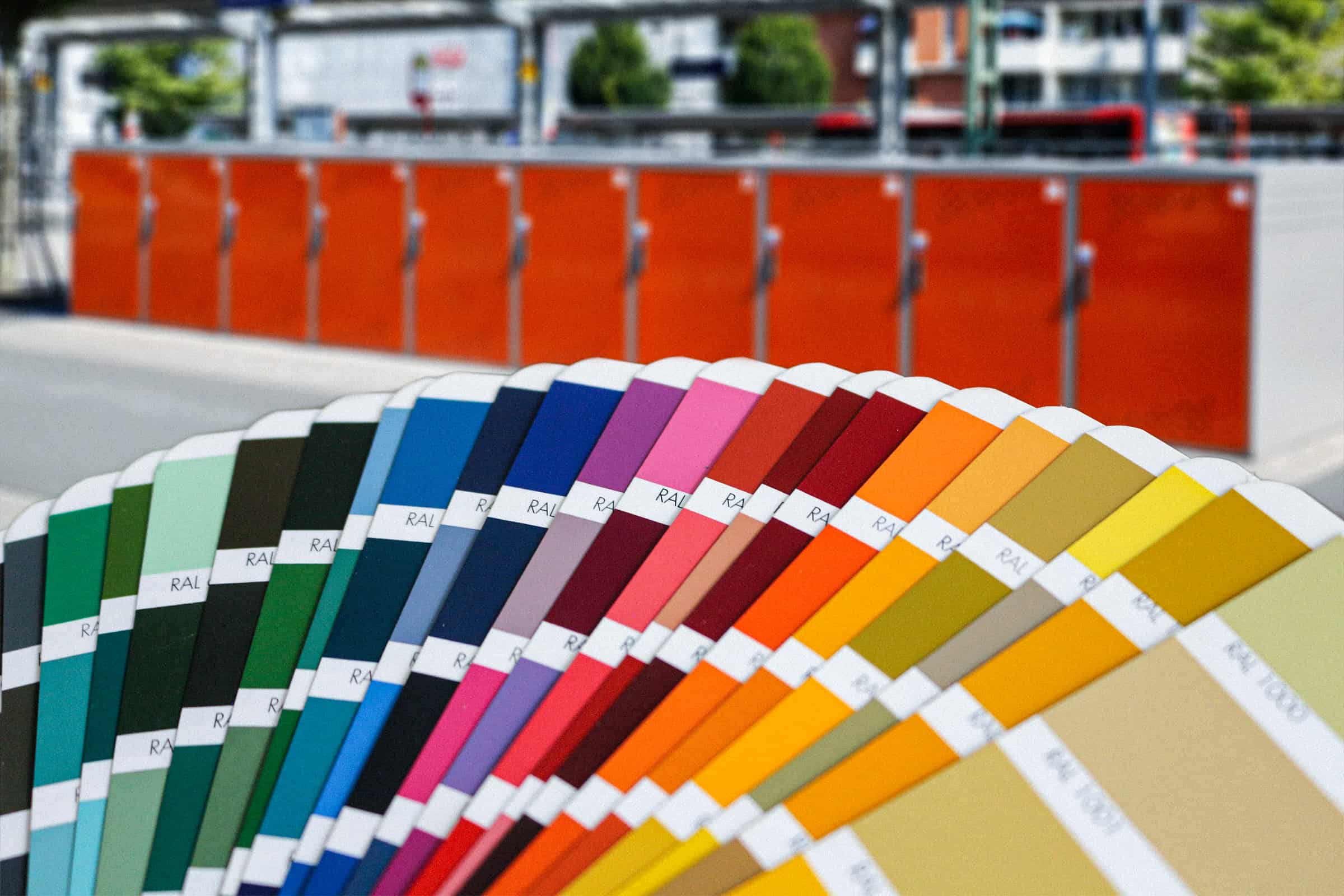 RAL: Transparency (not only) for colors
Sayings often do not take it so exactly: If someone promises "the blue of the sky", another is still "green behind the ears", then it is up to everyone to decide which colors he thinks of. However, anyone who offers products in color or has to make something colorful wants to know exactly – either to hold their own against the competition with a self-developed magenta, for example, or to avoid a dispute with their client. The RAL color systems provide a clear overview of colors: RAL Classic, for example, a collection of currently 213 standardized color shades in which each color is assigned a four-digit color number.
Necessity is the mother of invention
The RAL scale saw the colored light of day as early as 1927. Two years earlier, the "Reichs-Ausschuss für Lieferbedingungen (RAL)" had been founded to promote rationalization in German industry by simplifying and standardizing technical delivery conditions. At the same time, after the First World War, it was necessary to use pigments and binders sparingly, which were only available in very limited quantities, while at the same time, fueled by the emerging mass production of civilian goods, there was a great need for industrial coatings. In the face of adversity, the paint industry, consumers and the state agreed on the use of a few basic color shades and mixed shades derived from them, which could be produced in good quality with the pigments available. The first color scale of 40 shades was entrusted to RAL, which has since given the system its name.
Practical solution
Then as now, thanks to the RAL color systems, suppliers and customers only need to exchange one RAL number and do not need a color sample on defined material. Because not everyone can imagine the corresponding natural color under a certain RAL number and in order to avoid confusion due to number confusion, each color tone also has a designating name, e.g. RAL 1000 Green Beige, the first entry in our RAL list.
The standardization of RAL colors simplifies the understanding of color shades considerably. The supplier and customer can use the color numbers to clearly specify the color in which a product is to be delivered. At the same time, the unambiguous definition of color shades enables them to be produced exactly everywhere. Repainting and touch-up coats also become easier.
To be included in the RAL catalog, color shades must meet various criteria: According to RAL gGmbH (a subsidiary of RAL Deutsches Institut für Gütesicherung und Kennzeichnung) created and managed – they must be "timeless and subject to an overriding public interest. Furthermore, the color must be environmentally friendly and weather-resistant to produce, have a high opacity and there must be a visible difference to existing colors." About the development, the company writes: "Mostly, new color shades of major German companies were added. For example, in 1992, the Telekom colors: "Telemagenta," "Telegrau 1" and "Telegrau 2″ were added."
Ecological, economical and digital
In addition to the original RAL Classic color collection, since 2007 there has been the RAL Effect color catalog, which, with 420 solid and 70 metallic color shades, contains significantly more colors than the traditional catalog of RAL colors and also takes ecological aspects into account – pigments containing heavy metals such as lead chromate or cadmium sulfide are taboo in the formulation.
For the plastics processing industry RAL has been providing the RAL PLASTICS system since 2010, an independent color standard for plastics that considerably simplifies color design for designers and manufacturers and eliminates the need for time-consuming and costly matching of RAL colors from paint samples to plastics.
The RAL Digital software also provides the binding color catalogs digitally. RAL gGmbH also publishes the color trend book "RAL Colour Feeling" at regular intervals and issues publications such as "The Color Dictionary", "Colors of Health" or "Colors of Hotels".
Perspective and quality
The "RAL Deutsches Institut für Gütesicherung" has long since developed into a global player. With sales partners in 42 countries and product availability in more than 85 countries, it is at home on all continents. This involves much more than standardized, reproducible colors: There are now over 170 RAL quality marks from all sectors of the economy. RAL currently has around 130 manufacturers and service providers with around 9,000 member companies that have joined together to form "RAL Quality Associations".
As an organization recognized by RAL, they are responsible for quality assurance and a transparent award procedure. The quality associations award the right to use the RAL quality mark, regularly check the quality and testing regulations, monitor strict compliance and thus ensure transparency and quality far beyond Germany. After all, anyone can just promise the moon…
---
This is how the designations of the RAL Classic colors come about
All RAL Classic colors have a four-digit number in connection with the trademark "RAL" (e.g. RAL 2011). The first digit is systematic (1: yellow, 2: orange, 3: red, 4: violet, 5: blue, 6: green, 7: gray, 8: brown and 9: white and black shades), the remaining three digits are selected consecutively. In addition, each color tone also has an auxiliary designation (e.g. municipal orange for RAL 2011) to reduce the risk of confusion.
To become a member of the RAL Classic family, a color tone must:
be of overriding public interest and must not be subject to short-term fashionable influences
Have a certain minimum distance to already existing colors
be tintable with commercially available pigments that have been determined not to be harmful to the environment
with few exceptions, have a high hiding power over "black and white
can be made weather-resistant.
Some colors of the RAL palette are ubiquitous today. Examples of this are the color broom yellow (RAL 1032), which Deutsche Post uses as a corporate color, the Bordeaux violet of the EU passports (RAL 4004).